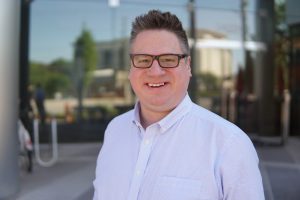 I've done a good bit. I want to do a lot more. Growing up in Atlanta, I have always had an insatiable curiosity for science, technology, and consumer behavior. These are traits that have guided my studies and professional career. I want to work with a growing company where I can use my education, experience, and curiosity to approach challenges with creative and unconventional thinking.
Out of grade school, I pursued a long-time passion for radio broadcasting and was able to make a successful career both on and off the radio microphone at "Atlanta's Classic Rock", Z93 – WZGC-FM. After 11 successful years in Atlanta radio, I decided to seek out new challenges and went back to school to pursue a rigorous college education at the Georgia Institute of Technology.  After graduating with two degrees from Georgia Tech, I spent 6 years in the Healthcare Technology field as a Sales Engineer for a leading Fortune top 20 company, helping medium and large-scale healthcare facilities implement complex hardware and software solutions to help improve patient care. I've since spent time working with small to medium businesses in a wide variety of roles, always with the goal to help customers win and achieve their long-term goals.
What's next? I'm actively seeing the next challenge. Areas I've focused on in my studies and experience include information technology management, media, pre-sales, healthcare technology, broadcasting, solutions engineering, consultative selling, and more. I'm an experienced but coachable media, technology, & marketing professional with an M.B.A. from Georgia Tech and if you have a challenge, I'd love to talk to you about how I can help.